From the Pittsburgh Post-Gazette, 10/25/2000


Creepy creations

Home's Halloween decorations scare up funds for charity

By Margaret Smykla
Tri-State Sports & News Service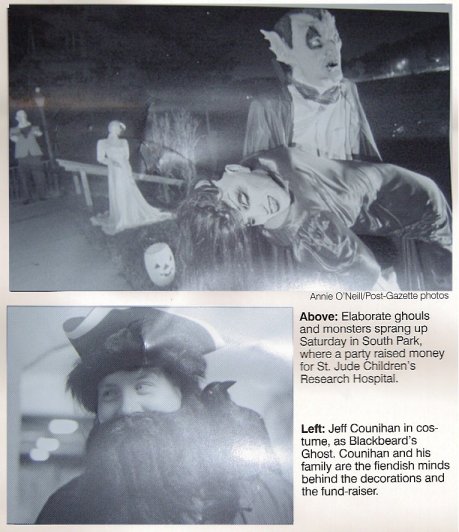 The For Sale sign reads ``Cemetery 21,'' but if Herman Munster bought the house no one would notice.
The Wilson Drive yard contains a blood-spurting guillotine with severed head, and an electric chair whose fleshless victim's eyes blink red and knees shake when an onlooker approaches.
The Headless Horseman hovers over his own headstone, while a big-wheeled hearse and wooden casket conjure bad memories of long journeys to mist-filled Transylvania graveyards.
A ``Bates Motel'' sign with a lit ``Vacancy'' lures weary travelers indoors for refuge and a hot shower.
Although ``Ask for Igor'' appears on the for-sale sign, there is no Igor, at least alive. It's all a ruse to lull unsuspecting neighbors into complacency, while the owner, Jeff Counihan, plots next year's ``garden party.''
On Saturday, the ``call of the wild'' open space of South Park --- minus howling wolves --- and a desire to raise money for St. Jude Children's Research Hospital, led him to transport his display to the Eagle Scout Lodge.
``It's creepy-looking,'' said wife Diane --- his influence apparent --- of the choice of venue where she has appeared previously as Esmeralda to his Hunchback of Notre Dame, and as Cleopatra to his Mummy.
In the afternoon, a children's party, featuring ``Bowling for Ghosts'' and a ``Haunted Fish Pond'' drew 82 costumed youngsters.
In the evening, the Haunted House of cut-off arms, hands playing cards, an iron-masked skull, and radio-controlled rat hosted about 125 friends and relatives of the Counihans' extended family.
Counihan, dressed as Blackbeard's Ghost, his eyes white with a black dot in the center due to special contact lenses, arrived in his silver PT cruiser emblazened with ``Willoughby Funeral Parlor,'' a reference to the classic ``Twilight Zone'' episode.
He entered his playground to the blaring ``Psycho'' soundtrack as a welcoming witch blended brew in a big copper kettle amidst smoke and discarded bones and severed foot.
Later, as darkness and chill descended, he led guests on tours of the graveyard.
``It's in my blood,'' he said, as his favorite count might have, of his obsession.
But pop psychologists may suspect a more twisted bond. Why, for instance, is his Dracula creation wearing Counihan's suit, and is his beautiful victim draped in his wife's bridesmaid dress and his mother's shoes?
A psychiatrist would blame his father, George, who transferred his love of hair-curling creatures and eery, supernatural goings-on into his unsuspecting offspring on Saturday afternoons as they watched classic black-and-white horror movies, like ``Frankenstein'' and ``The Wolfman.''
Instead of being terrified, the budding ghoul-master was merely ``entertained,'' a chilling precursor.
The youngster also witnesseed firsthand his father, in costume, sneaking next door to scare his mother's sister, Virginia Steigner, and her family.
``He is the root of it all,'' admitted the 36-year-old husband and father nicknamed ``Crawler'' as a kid for his affection for creepy, crawling mega-monsters.
By 12, Jeff Counihan's ghoulish leanings were as unwavering as cemented feet.
Lying in a self-made cardboard coffin as Dracula in cape and fangs, he jumped out at trick-or-treaters in sheer delight. As a teenager, his costumes grew more elaborate, his ``tricks'' more frightful.
In the tradition of the best of the genre, Counihan appeared to outsiders as ``normal.''
After graduating from Bethel Park High School, he entered Carnegie Mellon University to study creative writing. When he couldn't find a job in the field, he worked as a billing clerk at what is now Acclamation Systems, in Robinson Township, which produces software for the insurance industry.
Applying the computer skills he learned at CMU to his work experience, he became a senior programmer there, a position he holds today.
But his thirst to bring to life the rabid infestations of his imagination, much like the infamous Dr. F., persisted.
After becoming engaged to the former Diane Hartman, of Bethel Park, the couple bought a home on Wilson Dr. It's spacious, level front lawn and a large attic for storage didn't go unnoticed by Counihan.
``He was scary as a kid,'' recalled his brother, Ed Counihan, ``but when he got his own place it got worse.''
Shortly after their marriage on Oct. 15, 1988, tombstones sprung up on their lawn, while the subsequent years reflected his growing creativity.
He scoured thrift stores for the Bride of Frankenstein's wedding dress, while hand-crafting others, like the coffin made from an old stereo cabinet, and consulting Halloween websites for tips such as piping smoke through an ice-filled cooler into a witch's pot to ground the smoke.
In 1997, the Counihans decided to combine the small party they had been throwing with the party of Jeff Counihan's cousin, Terri Kauric, and hold a large gathering to help raise money for charity. This year's, called the Don Steigner Memorial Halloween Party, was in honor of Terri Kauric's father, who died earlier this year.
On Monday, Counihan returned the display to his lawn, to the delight of six-year-old daughter Caitlin's schoolmates, who holler ``we love your house!'' as their bus passes. The Counihans also have a four-year-old son, John.
Next year's party will be Oct. 20, when the Counihans and their guests hope to surpass the $2,000 raised last weekend for charity.
As Jeff Counihan said, it's in his blood.
Last updated 11/17/2008