From the Almanac, December, 2002


Yes Virginia, Santaís Got a 6' 2" Helper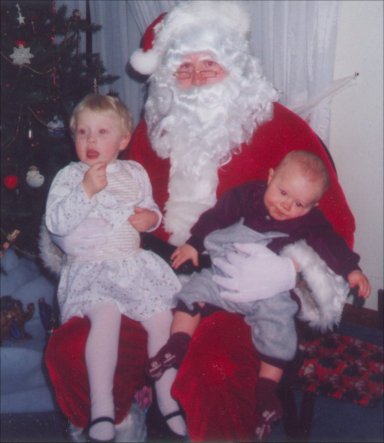 I first met Santa Claus 12 Christmases ago. I was trying to think of a gift for my father-in-law who didnít need anything. Then I remembered the story he often told of how he asked for a bicycle the year his father died. Since he was 1 of 16 kids and it was the Depression, he never got that bike. That Christmas Eve 60 years later, Santa Claus knocked on my father-in-lawís door. "Herbie Hartman, I found this in the back of my workshop. Sorry it took so long." Then he wheeled in a shiny red bike.

Ever since that Christmas, Santa has come when Iíve asked him. First it was just Christmas Eves at the Hartmans and Counihans. Then it was Christmas parties at work. After a couple years, I noticed that Santa got a nicer suit of red velvet with fur. Since Santa didnít seem to mind, I figured Iíd offer his visits to more people. I passed out a flier in my neighborhood and Santa went to every house that wanted to see him. My wifeís MOMís group got their visit. I called my cousins and emailed my co-workers. This year on two Saturdays and several evenings, Santa has driven my car (remember, his reindeer only fly on Christmas Eve) from Bethel Park to Hopewell, Aliquippa, Houston, Oakdale, Cecil, Gibsonia, Allison Park, Carnegie, Upper Saint Clair, Mount Lebanon, McMurray, Castle Shannon, Mount Washinton and Venetia. When my friends needed Santa for a Genesis fund-raiser in Millvale, he was there. When my daughterís brownie troop visits a nursing home every year, Santa goes with them. He even delivered German Shepherd puppies last year (one of which had an accident on Santaís suit). Santa only asks that I plan out his route for him; this is obviously his busy time of year. (Poor Mrs. Claus gets stuck with the elves while he's gone.) Magical things happen when I help Santa. Last year I called someone from my neighborhood that Santa had visited the year before and left a message asking if they wanted to see Santa. In a strange turn of events, over that year my neighbor had gotten her number changed. The number was now for a family that had moved to Bethel Park from New York. They called me back and said their children and nieces and nephews would be there that Saturday and they would love to see Santa. Though these people were strangers to me, everyone knows Santa and he really enjoyed the visit that came from this happy accident. On another occasion Santa was driving to his next stop and was flagged down by a stranger whoís son wanted to see Santa. Again, another happy visit. My 8-year-old daughter Caitlin finds it very suspicious that Santa is the same height as me and has the same blue eyes and she never sees us at the same time. This is just a coincidence. Besides, though my hair is going gray, Santa's is pure white and our glasses are completely different. And those that have seen me try can tell you I can't grow a full beard like Santa has.

Santa has taught me a lot over the years. He doesnít like to take money or presents in return for his visits. Santa is about giving and thatís where he finds happiness. He doesnít need anything; he asks that you give to your favorite charity instead, (or his, St. Jude Childrenís Research Hospital). Be nice to your brothers and sisters. Listen to Mom and Dad.

He tells me he's not the important part of Christmas. Thatís the baby in the manger who brought the world a message of giving to others. Thatís why he does what he does.
Last updated 11/17/2008